Budo-Nord welcomes Tural Aghalarzade
Meet karate ace Tural Aghalarzade. The Azerbaijani is the very latest addition to Team Budo-Nord. For Martial Art News, Tural shares his love for karate, the ups and downs of his career and the future together with Budo-Nord.
Tural grew up and today still lives in the capital of Azerbaijan, Baku. The city probably entered the consciousness of many Swedes when our own Loreen spread euphoria there about a decade ago.
– My first encounter with karate was in 1999. My uncle had a passion for sports and he made me believe that I could become a champion and introduced me to karate for the first time. As a child I was hyperactive. I used to watch movies with Van Damme and Jackie Chan and try to do the same moves and fight the same, he says and continues:
– Karate is very important to me and will always be a permanent part of my life. I love the freedom karate makes me feel. I have a university degree in tourism and management. Because I love karate and sports more, I earn my living through karate. In addition to that, I also do individual coaching.
For the past thirteen years, Tural has trained at the club MKM, which stands for national karate center. During the journey, he has always had his faithful trainer Gurban Taghiyev by his side.
– I train karate six times a week and in addition to that I train physics, strength, endurance, breathing training and mental work. Individually and in teams, in the middle of the day. Sometimes even on Sundays, he says and adds:
– At first I attributed the secret behind my success to hard work and perseverance. I believe that working with my mentor in recent years has been a big reason for my path to success both in sports and in life. I can say that I found the key to life and karate with him.
Despite many tough challenges and setbacks, Tural has never given up on his dream of becoming a prominent karate practitioner.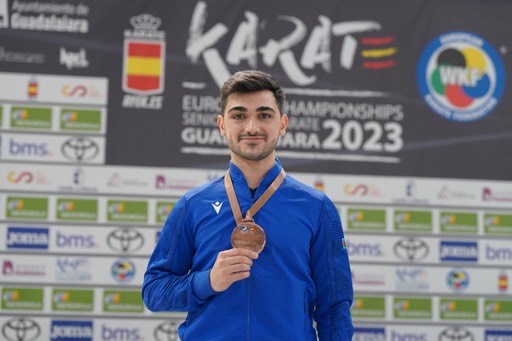 – My career has been motley. When I joined the senior national team, I had to compete with European champions and international athletes and managed to cope with them. Over time, I had to undergo surgery due to the injuries I received in training and competitions. I promised myself that I would win the fight that I had started, so I kept my word and continued, he says and continues:
– Since I started my professional career, I have won many medals in both individual and team disciplines. European Championship and World Cup final for youth, European medal, Premier League and World Cup for adults. In addition to that, I also won a medal for my country in the Islamic Solidarity Games.
Tural has started this season strongly. He will enter a couple of competitions where the goal is to collect even more medals.
– This year started very well. In February I won bronze in the Premier League in Egypt and in the EC in Spain. It allows me to lock in my goals in a more motivated way this year. Now my new goals for the year are the European Games in Poland in June and the World Cup in Hungary at the end of the year. I wish with all my heart to increase my medal haul by fighting at my best in the World Championship and in the European Games.
The European Games started in 2015 and is a continental sport event in the Olympic tradition. Athletes from European nations and several transcontinental countries compete in several different sports. Tural will represent both his nation and Team Budo-Nord during this year's karate competition in Bielsko-Biała, Poland. He will also be the first athlete to wear Budo-Nord's brand new eco-friendly suit Budo-Nord Mirai WKF Karate GI. It will be flown in to him directly from the factory. The suit will then be launched to the public at the end of July.
– I am very excited because I will debut in the European Games for the first time in my career. I have given up many things for this and now I am ready for the championship, he says and adds:
– I was very happy when I first heard that I would be working with Team Budo-Nord. It is important for elite athletes that the GI is comfortable and of good quality. Recently, I have noticed how comfortable Budo-Nord's karate equipment is through other athletes. Now I am excited to fight like a warrior in competitions with these GI's. I am very honored to be part of Team Budo-Nord. Together with Budo-Nord, I believe that I will achieve the best in my career. Many thanks to Pierre for the fantastic invitation to the Budo-Nord family.
The Green Karate project is developed by the World Karate Federation and their main partners to promote the use of environmentally friendly karate equipment. All equipment approved by WKF will be produced from at least seventy percent recycled material.
– As a thinking individual in this world, the environment is among my first areas of responsibility. Today I support all environmentally friendly campaigns around the world. I try to keep our ecosystem as clean as I can.
Read more about Green Karate
Also read about Premier League in Rabat