Stanislav Horuna shows gold form before the Olympics!
With only 10 seconds left of the European Championship final in 2021, Stanislav Horuna is down 1-0 against the karate superstar Rafael Aghayev. Then, Stanislav throws a perfect ura mawashi geri ("reverse" round kick) with his left leg, and a long-awaited European Championship gold is finally his. But the European Championship gold is just a taste of what we will see from Stanislav Horuna this summer – the Olympics in Tokyo are just a few weeks away, and for the first time karate will be included in the games! Kampsport News has conducted an interview with the Budo Nord-sponsored karate champion Stanislav Horuna about the European Championship final, the upcoming Olympic Games and how he kept his focus during the Corona crisis.
A long-awaited European Championship gold
Stanislav Horuna has already won both silver and bronze medals in the European Championships. Only the European Championship gold was still missing, and Stanislav describes the feeling of this being something he needed to achieve after several years of competing. To also meet the karate legend Rafael Aghayev from Azerbaijani in final was special:
– To meet an opponent like Rafael makes the achievement and the medal even more valuable to me. Especially for all of us who know who Rafael is and know the high caliber of his karate, says Stanislav.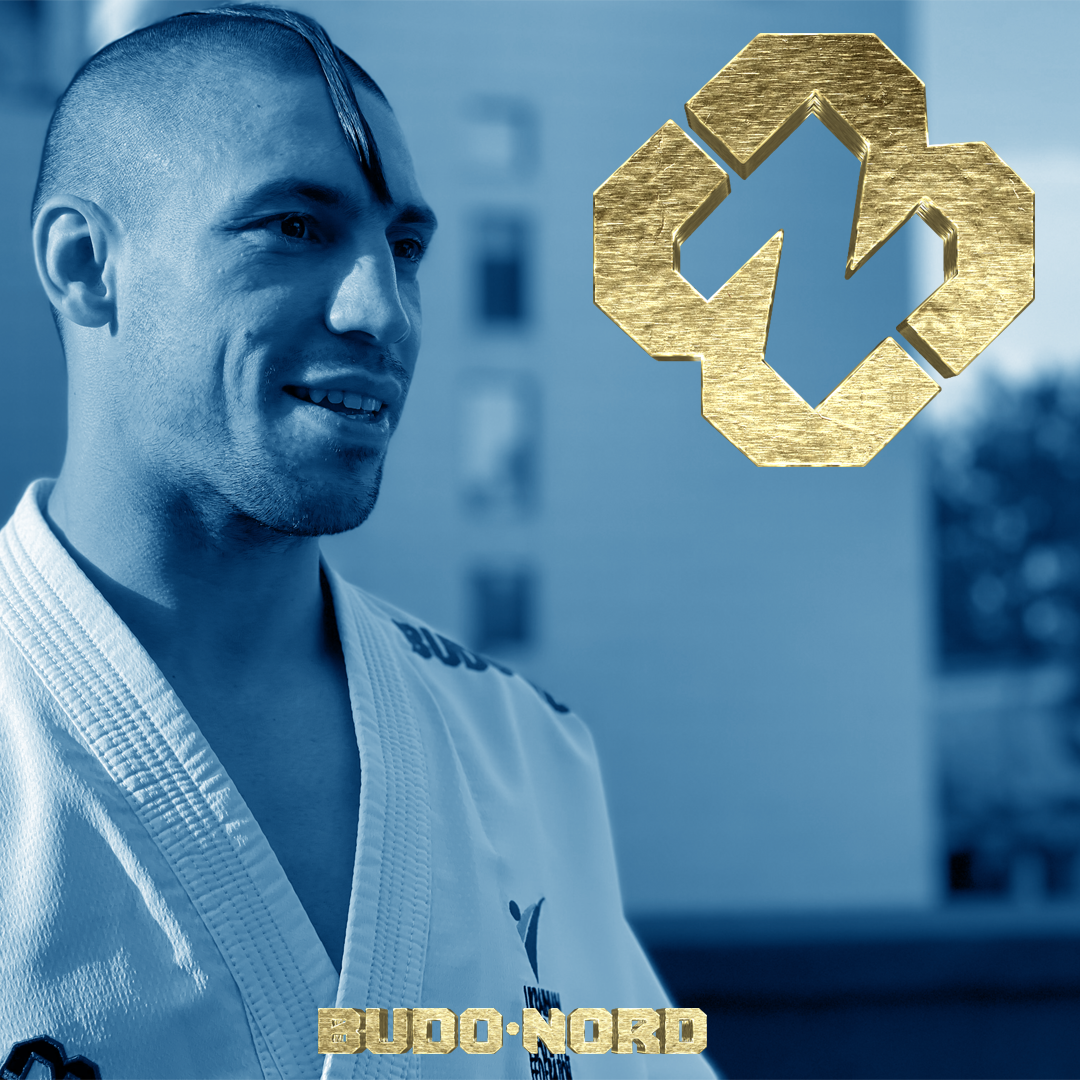 European Championship final
When Aghayev gets a hansoku chui-warning, Horuna predicts that Aghayev will need to step in closer. It is a situation where both fighters must anticipate each other's next move. There are only 10 seconds left of the match. Aghayev's kick comes in the air. Then, Horuna steps in and performs an ura mawashi geri (a reverse round kick) with his left leg, which is impossible for Aghayev to predict. I took the opportunity to ask Stanislav how he keeps so calm in such a situation:
– Staying calm and being able to think during a fight is, of course, the result of both experience and a strong mindset. And this is actually what I would advise to anyone – work smart, guys! Fights should be won with the brain, not with strength or speed! says Stanislav Horuna.
Karate during the Corona Crisis
The corona crisis has of course affected the entire sports world, and not least martial arts and karate. In many places, dojos and competitions have been closed down. Ukraine was shut down for a full 3 months – a time that Stanislav used for rest and recovery . Fighters and young people around Ukraine have been forced to train at home. The great difficulty with training at home for young people, says Stanislav, has been to keep the training interesting. In many places, people have become very creative in trying to maintain karate training in a home environment.
OG in Tokyo
It has been uncertain whether the Olympics will be held or not. Karate comes late in the Olympic schedule and it is not until August that Stanislav will step out on the Olympic mat and represent karate for the first time. For us TV viewers and martial arts lovers, it will be a historic moment. But Stanislav does not think about it like that. He prepares himself for the challenge, and for him it will be "just" a fight – as it always is in a tournament for Stanislav. I ask him about the opposition – about Asgari, Busa, Nishimura and Aghayev. He has already met and won against several of them. Who is the most dangerous and who is he most looking forward to meeting?
– All the guys in my weight class who qualified for the Olympics are unique and difficult to meet in their own way, he answers.
Karate and OG
Karate will be included in the Olympics for the first time. It may also be the last time, since the Olympic Committee in Paris has decided not to include karate in the OG 2024. But what kind of karate are we going to see in Tokyo? It will be the karate styles of the WKF, including both kata and kumité. Stanislav doesn't particularly like the fact that this karate style sometimes goes under the name of "sports karate".
– We do not say "sports judo" or "sports taekwondo" or "sports fencing". Why do we have to talk about it as sports karate, as if we feel a need to explain orselves?
The Champion is preparing
When I ask him how he recharges after the European Championships, he says he usually does not recharge. He only needs to rest for a few days and get a good night's sleep. Like all other Olympic athletes, he will need to train hard in the coming weeks. The great form that Stanislav showed during the European Championships was just the start of what we will see. Stanislav Horuna is ranked No. 3 in his weight class in the world, and this summer he has one objective:
– My task is to bring myself in my best shape, says Stanislav Horuna.

If you want to gear up like champ Stanislav Horuna, you should check out Budo-Nord. Stanislav Horuna fights in this Gi Budo-Nord Vortex Karate Gi WKF
Budo-Nord, which sponsors Stanislav Horuna, is also an official partner of WKF by providing WKF-approved protection.
You will be able to see karate in the Olympics 6-8 August 2021.
You can read a previous article about Stanislav Horuna's journey towards the Olympics here.