Cecilia Fager on karate, kata and gym training
In many ways, Cecilia Fager is not your ordinary martial artist. She loves kata and she loves going to the gym. Traditional martial artists usually understand the importance of doing kata, while eschewing gym training. Modern martial arts fighters, on the other hand, often feel at home in the gym but might not appreciate the value of kata.
Add to that the fact that Cecilia has amassed a large following on Instagram, packing a real punch with 137 000 followers to date, something that few other traditional martial artists can match. But she is not just a karate influencer, she is also a researcher at KTH Royal Institute of Technology, with a PhD in Materials Science. In this interview, we chat with her about all things karate, kata and weight training.
How it all began
At twelve years old, Cecilia stepped into a dojo for the first time, almost by accident. She was just supposed to stay in the car while her older brother was dropped off at karate practice. What she experienced in the dojo made a big impression on her, and soon after, she also began training karate.
She describes herself as being rather shy growing up.
– One of the first things I told my coach was that I didn't want to compete or grade. Just the thought of being in front of a lot of people terrified me. But that began to change as I watched the older girls grade and compete.
– I still get just as nervous as before, and I can still get the exact same feeling, and the same kick out of stepping onto the mat. Karate gave her the ability to overcome her nervousness and took her all the way to competing for the Swedish national team. Up until the age of 19, she participated in numerous competitions, mainly in kata. But during one competition she suddenly injured her hip in a high kick, an injury which would keep her away from training for several years before she was able to return to it again.
Kata training
It was early on in her karate career that Cecilia fell in love with kata training. For those not familiar with this aspect of karate, kata can be described as a series of techniques performed in a specific, predetermined order. It is similar to how a taekwondo practitioner performs poomsae, or how a boxer uses shadow boxing to practice their technique. Kata training focuses on basic techniques, angles and patterns, and on mastering those techniques within a flow of movement. Many modern martial arts fighters have a hard time understanding the use of kata.
– You have to have reached a certain level of proficiency in your karate to really understand the deeper nature of kata, Cecilia says. Many lack a true understanding of the application of the techniques, known as bunkai in karate. Kata are all about knowing the basic techniques and understanding how to use them – that's when the kata becomes real and authentic. She especially loves the big movements and deep stances that can be found in Shotokan karate. Kata training gives her a special kind of concentration, focus and mental clarity.
– When I'm performing a kata, I have to be extremely focused: it's like a mental cleansing, of sorts. I'm in the moment, and there's no room for thinking about anything else.
Combining karate and gym training
If you follow Cecilia Fager on social media, you'll quickly learn that she is passionate about weight training and going to the gym. Traditionally, weight training has not always been viewed in a positive light in the martial arts community. For a long time, a common opinion was that you shouldn't complement your martial arts training with weight training.
– In spite of this, I quickly discovered how much I enjoyed weight training, and how it also helped me develop my karate. Of course, if your goal is to become world champion in kata, then you should focus on your kata training. But I know that my weight training has improved my karate a lot. And besides, I don't go to the gym just because of karate. I sincerely enjoy it, and I am very interested in how our bodies and our muscles work, and in human anatomy as a whole, Cecilia tells us.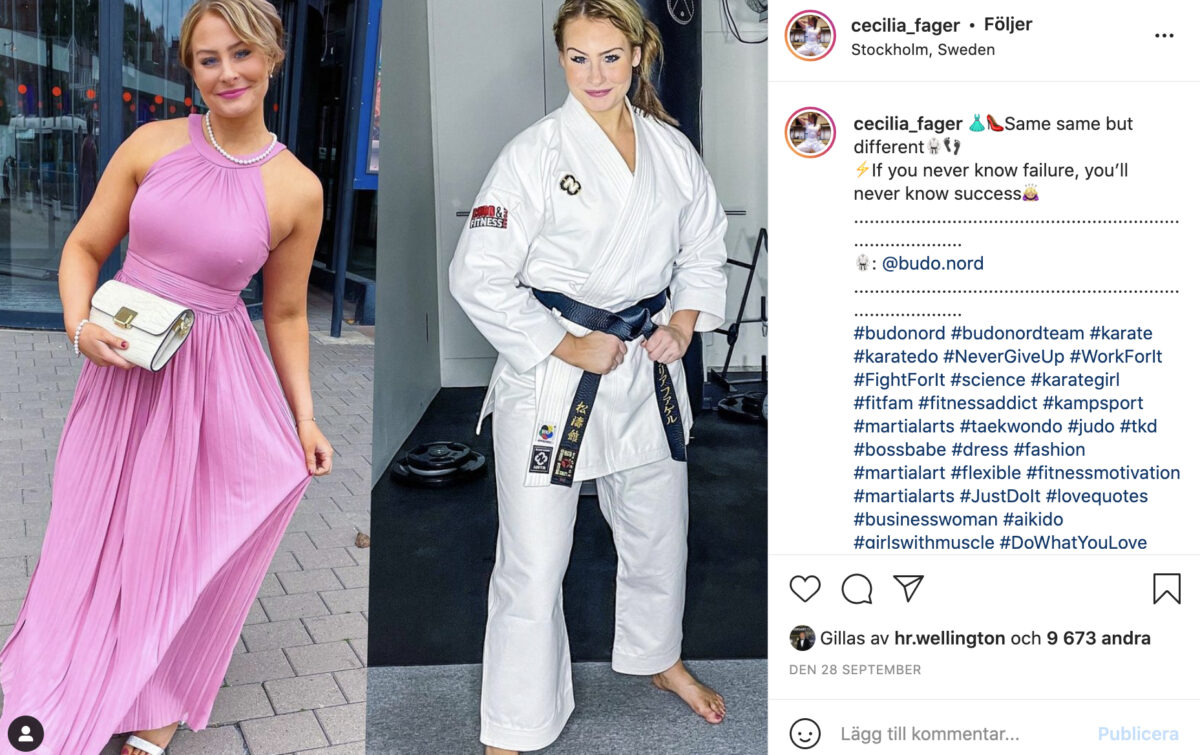 Running one of Sweden's biggest karate instagram accounts
On social media, Cecilia shares her adventures in karate as well as her professional life as a researcher at the Royal College of Technology KTH in Stockholm. With over 137 000 follower's on instagram, there are few other Swedish karate accounts that can match her reach at the moment.
– When I started my account, what I wanted was to share my everyday karate experience. I felt that there were few accounts that really showed the small stuff – how nervous you can feel before a competition, for example, or explained what happens during a typical competition, how to register and so on. Working in social media is about sharing both the good and the bad. There are some unwritten rules in the community about how you shouldn't show your training or your techniques, to prevent your competitors from benefiting from your work. But personally, I don't think that matters all that much. In the end of the day, it's your own performance that will determine if you win a competition, and not what you shared on your social media.
A special relationship with Budo-Nord
Like a lot of martial artist in Sweden, Cecilia Fager has a special relationship with Budo-Nord:
– My first gi in karate was, of course, from Budo-Nord. And I remember how, as a child, I used to page through the Budo-Nord catalogue while waiting for our dojo training sessions to start. It still feels a little unreal sometimes, to think that I now have the opportunity to represent this brand. I used to compete in a Budo-Nord gi for many years, and now I work with this brand that has meant a lot to me in my karate career, both as a child and as an adult.